Viper
Valuations, Interim Invoice Payment Applications, Payment and Retention Tracking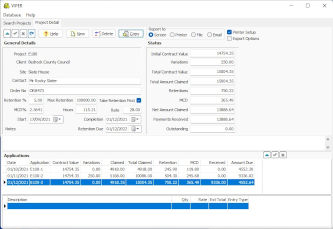 If you use a standard accounts package like Sage or do not use accounts software, then Payment Applications and Retentions can be a headache.
The Problem
Most contractors lose money year after year simply from missing retention's that are due. It can be a nightmare keeping track of retentions due without specialist contractor accounts software. If you do not use an accounts package, you'll also know what a chore it is to keep on top of late payers and how that effects your cash flow. General accounting software does not cater for the contracting industry. It doesn't offer pre-invoice application for payment, deduct contractors discount or retention's from invoices. Worse still, it doesn't log or report when retention's are due.
The Solution
VIPER is a bolt-on to our Contractor Invoicing Software module and provides the solution - a Contract Payments Management Control program.
Pre Invoice "Valuations" or "Applications for Payments" can be sent to clients with variations shown separately. The Application will automatically calculate and show, not only this application claim amount, but the total outstanding amount due for the project to date - if previous invoices have not been paid.
On approval, an interim invoice can be produced with our contractor invoicing software. Simple select the application and the agreed figures are entered with main contractors discount and retention percentage automatically deducted.
When a payment is received in our contractor invoicing software the project figures are updated.
A Retentions Due Report will list retention's due for any period, so that you don't lose money.
Raising a retention invoice is semi-automated with our contractor invoicing software as it knows the figure to be invoiced.
Aged Debtors reports in our contractor invoicing module will show overdue accounts, making it easier to keep tabs on those that owes you money so that you can keep on top of debtors.
Project Status figures keep you informed on the project situation with Original Contract Value, Additional Variation amounts, MCD deducted, Retention amount deducted, Amount Claimed, Payments Received, Outstanding Balance.
If you use Accounts software like Sage there is an option for Invoice/Credit/Payment details to be exported.
VIPER Payment Applications

Video

An overview of VIPER the payment applications software. After viewing the video we can provide you with a fully interactive live demonstration where you can see the software in detail and ask any questions.

To view the video full size, click the arrows icon at the bottom right of the video frame bar. Make sure your speakers are switched on to view this video. If your screen is blank you may need to click a bar at the top of your browser to "allow blocked content".