Material Purchase Order Processing Software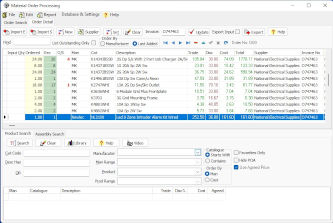 Materials can be imported and consolidated from the Electrical Estimating Software and Small Works Pricing Software to increase potential order size and purchasing power. Materials can also be input direct from the electrical product database and ad-hoc items also entered.
The materials entered into the purchase order processing can be exported or allocated to Small Works jobs and/or selected Job Costing projects, as well as exported for accounts systems.
Consolidated material list can be sent to suppliers in the form of a quotation request to secure your best prices.
Once a purchase order is raised, the quantities received can be entered, either by batch or individually. Outstanding items on purchase orders can be displayed at a glance to ensure you are on top of the order.
Import and consolidate materials from multiple estimates/jobs.
Ad-hoc material input.
Consolidated Material Quotation request report
Purchase Order report.
Outstanding Purchase Order Items report.
Track Orders and Outstanding Items.
Export to Small Works and Job Costing projects.
Export for accounts.
Material Order Processing Software

Video

An overview of the purchase order processing software. After viewing the video we can provide you with a fully interactive live demonstration where you can see the software in detail and ask any questions.

To view the video full size, click the arrows icon at the bottom right of the video frame bar. Make sure your speakers are switched on to view this video. If your screen is blank you may need to click a bar at the top of your browser to "allow blocked content".