Service Maintenance Software
Organise planned servicing of equipment, buildings, machinery, vehicles, etc, with flexible recurring service schedules providing total flexibility of asset maintenance. Services can be raised at required intervals, along with service sheets detailing the work to be carried out by the engineer. If required, any extras incurred can be added and invoiced with the addition of our Small Works and Invoicing module. The results of each service can be stored in the history file of each asset in the equipment register for full traceability. Equipment Service reports can be produced for customers as can Key Performance Indicator charts.
The application is flexible enough for all types of service applications including: Mechanical and Electrical, Fire Alarm, Security Alarm, Building Maintenance, Machine Maintenance, Vehicle Fleet Management. In fact anywhere regular servicing is required.
Service Schedule Planner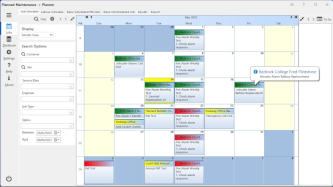 Labour Scheduler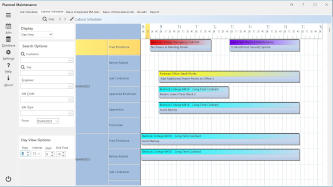 Reports
Reports warn of impending overdue service, equipment inspections and works.
KPI charting shows quantities and percentages of equipment and works completed on time.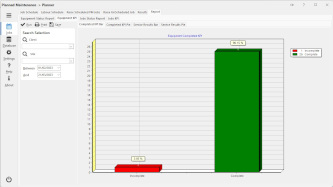 Equipment Completed Bar Chart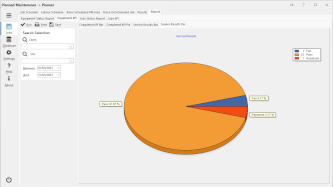 Service Results Pie Chart
Features
Equipment Asset Register holds details on each item of equipment, warranty dates, location, service plan.
Service History file logs the Results and Comments of each service and on each item if required for Complete Traceability.
Service Plans with detail of tasks to carried out by the engineer.
Service Schedule Planner - Visual Calendar or Day based Planners, with Recurring Appointment Dates for periodic services.
Labour Scheduler - Labour can be scheduled at the same time as, or independently of, services using a visual Calendar or Day based Labour Planner, which show available Engineers and allows you to schedule them as required
View Services Due based on Dates, Customer, Site and Area. Service details can be viewed as sites to be visited, or a fully Itemised list of Equipment items and Service Required.
Un-planned Reactive Maintenance catered for.
Service Sheets produced listing relevant Equipment items, Location and Tasks Required.
Service Results can be input and used for KPI report.
Labour Tracing is an option that provides a full audit trail showing which engineer attended which job on any given date. (Requires the Small Works module)
Invoices can be printed and details exported for use by systems like Sage Accounts to use. (Requires the Invoicing module)
Application runs in light or dark mode theme.
Service Maintenance Software

Video

An overview of the Service Maintenance software. After viewing the video we can provide you with a fully interactive live demonstration where you can see the software in detail and ask any questions.

Check speakers are on, click the arrows icon (bottom right of the video frame bar) to view full size. If your screen is blank you may need to click a bar at the top of your browser to "allow blocked content".