Enquiry and Contact Logging Software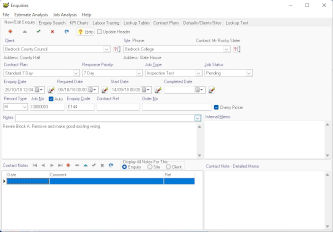 Enquiries can be logged centrally and a complete history of contact notes, events and dates stored against each enquiry.
New contract estimates, small works and service maintenance orders can all be logged on the enquiry module, with key fields suggested and pre-filled if customer or site records have contract plans set-up.
Existing enquiries can be located by any combination of Enquiry ID, Customer, Site, Dates, Area, Job Type and Status.
You can see at a glance which jobs are outstanding or required within the next "x" days to avoid penalties and ensure your customers receive good service.
The Service Maintenance application will have full works and labour schedulers to search and check on historical labour times and locations, but for those without the Service Maintenance the enquiry module provides a trace for all labour entered into the small works application so that you can easily identify who was at which site and on what date and time.
KPI charts can be produced to show works completed on time and estimate analysis reports can be produced to show conversion rates and profit margins.
Reports include
Outstanding jobs required within the next "x" days
Overdue jobs.
Estimate Analysis.
Small Works Analysis.
KPI Chart

Enquiry Contact Logging Software

Video

An overview of the enquiry contact logging software. After viewing the video we can provide you with a fully interactive live demonstration where you can see the software in detail and ask any questions.

To view the video full size, click the arrows icon at the bottom right of the video frame bar. Make sure your speakers are switched on to view this video. If your screen is blank you may need to click a bar at the top of your browser to "allow blocked content".

Your browser does not support the video tag. As an alternative you can view video the on YouTube